Leave it to Karl for the biggest spectacle of the fashion season. For a man who never dabbles in the banal, obsessed with the modern, and love of pop culture, the Kaiser erected his very own mega shopping mart for Chanel this season. Highly anticipated and always outdoing himself, for his fall collection there were aisles brimming with Chanel-branded pasta (carbs!), soda, meats (a very cleverly packaged "Jambon Cambon") cleaning products, home goods, and even a Chanel broom and doormat.
Watch the 2 minute video below, in English, and weigh in on Chanel's extravagant grocery store theme.
Fashion is not all smoke and mirrors. This past weekend in Paris brought a bevy of  sure-to-be copied looks and focused on the conceptual avant-garde — the stranger and wilder the looks, the better. Only a few designers could take the fashion industry's breath away by the way they place a flower on a lapel, draping on a sleeve, the fringe on a coat. These heavy hitters including Céline, Chloé, Givenchy, and Kenzo presented collections that are surely going to inspire a craze or two next fall.
Here are my top looks, so far, from the city of light.
1. Céline
The looks on Céline's catwalk featured sleek, thirties-styled tailoring, and double-breasted closings gone wild. The thirties were on Philo's mind when she was first thinking about the collection, especially women like Hannah Höch and Lee Miller, who were pivotal figures in the Dada and surrealist art worlds.  The new, sinewy silhouette was complemented by soon-to-be-coveted knockout accessories: a single statement earring, a bold colorful cuff, and an oversize tangerine fur muff.
2. Chloe
Fall excursions for Clare Waight Keller's Chloé  are often a swing between soft and hard, the girlish and the boyish. But this Fall there was perhaps an injection of a new element: something wild. The coherence and boyish discipline, together with the pretty-prettiness of Chloé, was given an additional jolt with the wild and woolly today. See this leopard fur coat with strips of marigold and ruby fur worn over an ivory fringed dress. The bag tucked underneath the arm exudes just enough nonchalance. Love the  great new bags and enticing outerwear.
3. Acne
One of the reasons I love what Acne does, is mastering the perfect sweater and that they did. Sweater dressing is the season's hot topic, and Acne had ideas to contribute, including ribbed knits that draped the body like beach towels. Take note of the large pom-pom hat you will find on heads everywhere next season.
4. Stella McCartney
It's official: Chunky knit pajama-style pants are one of fall's key trends and Stella is giving her customer what she knows and loves. Borrowed from the worlds of sport and loungewear, I love the zipper detailing and embroidery on her oh-so-sexy clothes, stirrup pants, and those flatforms are back with a vengeance. I can't think of a better way to start your day– put on your fringe and dance!
Junya Watanabe jeans // Costume National mules
Image via W magazine
After furiously scrolling the internet to find street style looks from London and Paris to emulate, I found this picture and then fell into a rabbit hole in a mad search for these fringed jeans. The must-have embellishment for the upcoming spring season is fringe and these pair of jeans are on my must-have wish list. Now you don't have to be a granola loving, earth-loving kind of gal (though what is more chic than being eco-friendly) to pull of this trend. Frankly, I don't see myself spending over $700 on a pair of jeans anytime soon. I am on a jeans cleanse.
So, if you, like me, have wanted to start wearing fringe on steroids, why don't you high tail it over to your nearest craft store, buy a yard or two of fringe  and take the fate of your imminently future style cues into your own hands with a DIY that seems impossible to screw up.
There will be many replicates coming soon to a blog near you and it's certainly worth a try. But if you're not creatively inclined, go for the real deal.
Shop it here:
At the very end of New York Fashion Week I made my way to The New Yorker for Couture Fashion Week. The annual event is sponsored by Emirates Airlines, who is now flying between New York and Milan. The event I attended showcased 3 brands:  Yasmine Studio, 3zehn, and Pedram Couture. Between each show was a song by an opera, which was both entertaining and surprising. Though technological problems caused the show to run late,   the looks that appeared down the runway were unique, and it was nice to see designers being represented from around the world.
1. Yasmine Studio
As soon as looked started coming down the runway, it was clear that the focus was on coats. Underneath, models wore simple black t-shirts, leggings and black heels. The first couple coats gave a nod to the designer's New York education at the Fashion Institute of Design. My favorite coat by far was the all black one, especially with its cinched waist and leather accents. Currently, the brand is based in Nepal, which is evident in the printed coats sent down the runway. Coats of all shapes and colors appeared, but my favorites were the ones with huge collars and red accents.
2. 3zehn
Though 3zehn's creator Kristin Zimmerman hails from Germany, the collection was clearly more influenced by Spanish culture. The entire collection was black and white, which was a plus for me. This collection was not for the fainthearted, every look was more body-hugging or revealing than the next. However, most looks managed to stay classy and beautiful.
Is the leotard underneath a sheer gown a new trend?!
See: Jennifer Lawrence in Dior. Discuss in the comments!
Pedram Pasha Taheri has Persian roots, and a background in Interior Design. This collection contained the most looks that coincided with the trends of today. Metallic and fur made appearances. Hair was old-school Hollywood and complemented the collection nicely. My favorite look was a backless, polka-dotted gown. Overall this was my favorite collection.


Overall, the show was very good. Suggested improvements would be starting as close to on time as possible (fashion shows run notoriously late but over an hour is a little excessive), and to give the models shoes they can actually walk in. Flats anyone?
Written by Sarah Murray. Edited by Stephanie Unter.
All photos taken with an iPhone.
Dries, Dries, electric Dries. Audacious, powerful, with an injection of Op-Art graphics, Van Noten never fails to twist the lid on rendering a first-rate collection that was fun, bold, and colorful yet executed oh-so-carefully.
It was a winsome combination of optic stripes, metallics, and flowers with integrated athletic references intensely layered onto hyper-focused clothes with an unmistakable menswear dash. And I am officially obsessed.
See the full collection here from  Style.com.
Do you ever wake up looking like this bed head beauty? For most people here on Earth, the answer is an absolute no. There are times that my hair looks extra straight, fine and smooth, but after all, this is Anja Rubik. On a daily basis, my hair needs a cocktail of all sorts of hair products that work but my wish has always been to have my hair-do down to a science. Yes, I wash my hair every other day, and own every hair care product known to man, until I realized– earth to Stephanie–there needs to be a simpler way using less to achieve those beautiful locks.
Dilemma? My hair always has that messy look especially waking up in this bed. Messy, yet unfinished. I wanted messy in a good way.
What to do?
1. Go Short.
It's transitional time and whether due to seasonal changes, some astrological moon signs intersecting with Mercury whilst it's in retrograde, thank you AstrologyZone, or the resurgence of no-nonsense '90s dressing, we are either growing out those summer bobs or lobbing off their super long hair. Which is to say there's a lot of mid-lengths going on out there. Trés chic.
2. Get to Styling
The question remains, what products could I use to make my hair do stuff? I consulted with the team at Sam Villa who educates stylists on how to do hair better and quicker with a line of tools that deliver maximum results with minimum effort. The tools? For starters, the proper blow dryer, and the right brush for your hair texture for desirable results. And the products? They're easy, quick, and offer a real run for the alcohol content of any mixed drink. Or, get yourself to a blow-dry bar. Here is a step-by-step on how I should be taming my locks.
3. Learn the tricks.
I test drove this blow dry for a few days during fashion week and here's what I surmised. For the most part, the less styled, the better. The less you wash it, the better it will look. It gets the best shape on the second or third day filthy dirty. And it looks great with scarves on, because the hair bunches really well.
Here's how to extend the life of a professional blowout:
Day 1 and 2: Professional blow dry on day 1, enjoy as is on day 2.
Day 3 and 4: Use Redken Powder Refresh 01 aerosol hair powder/dry shampoo to absorb oil on dry unwashed hair. Shake well, mist on roots and brush through to distribute evenly to refresh and extend the life of the blowout. If needed, touch-up sections with a blow dryer or flat-iron.
Day 5 and 6: Rub a small amount of Argan oil into the tips of the boar bristles of a small round brush and rotate the brush along the surface (section coarser hair types) to spread oil, smooth flyaways and impart softness, condition and shine. Secure into a ponytail and/or twist the ponytail until it rolls on itself to create a sleek chignon and secure.
Now the question remains, can I train my hair to do all this? Can't I just be that girl with that effortless beauty?
Stay tuned tomorrow for more on Age Defying Hair Care for tips on what to eat to grow healthier hair.

Most of you should have seen the "History of Rap" act by Jimmy Fallon and Justin Timberlake by now. Friday night the pair performed the rap for the fifth time on The Tonight Show and once again presented an impressive medley of some of the most iconic tracks in rap history. In case you missed it, take a minute out of your Monday to see a superbly talented duo.  A minute ago, I didn't know white guys could rap. Hashtag #Vanillaice.
Wait for the beat….wild things. And stay for the Salt N' Pepa.
Who gets the credit for such comedic genius that is Jimmy Fallon's new late night talk show?
The History of Rap Part 5 Tonight Show You Yube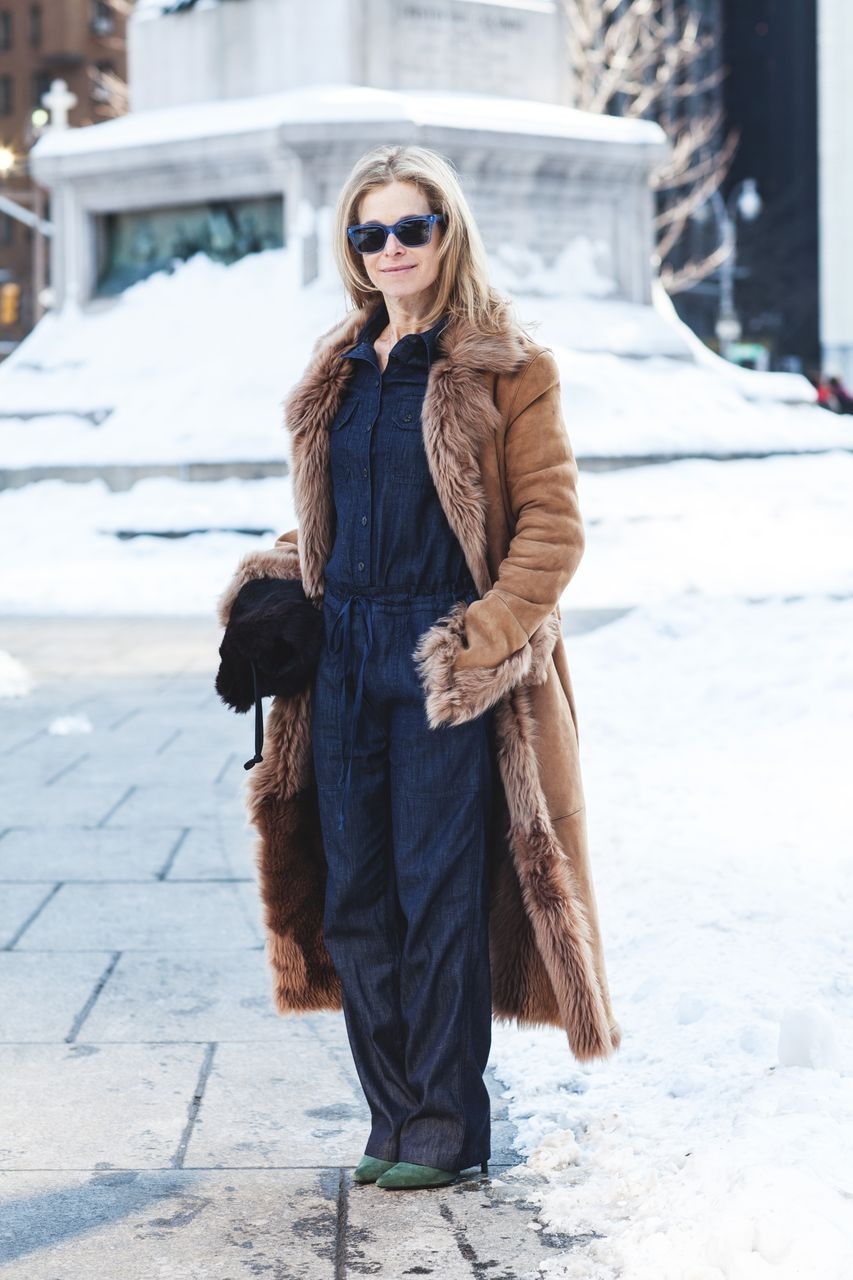 Three things.
The first: They say that style is personal and fashion is a state of mind, stay true to your own beliefs and not to follow the trends of the season. Although I wholeheartedly agree, it largely depends on the fact that different cities develop and fine tune cues that become indigenous to their regions. These cues are ultimately influenced by circumstantial details — a city that snows 200 days a year, i.e.: New York or Carbondale, vs. a place where social culture depends on the amount of sunshine, or nightlife, i.e.: Miami and Los Angeles. These circumstantial truths ultimately becomes what separates your city's style from another's. Case in point. This was taken during the madness of fashion week and as much as I wanted to bare my legs or drape that jacket over my shoulders, who was I kidding? It was really really cold, making looking stylish in any way shape of from, quite difficult to master.
The second: I wore a lot of  easy pieces that I could throw out without much thought. My raison d'être is to stand in front of my closet and while gazing at all my clothes, there are days that I am running late, am tired, and just want to feel cozy. Enter the one piece wonder - the denim jumpsuit. From the runway to real life, jumpsuits are still going strong. Plus, they make getting dressed a cinch. But since they're not all cut from the same cloth, there are a few things to keep in mind. Read on.
Keep the rest of your look simple. Throw on some single-sole pumps in green suede, and add a pop of color in the look for spring. I love the slouchy look, so I went for ultimate comfort being that I was running from show to show even with a few broken ribs. Consider which pant shape is most flattering on you—cropped, skinny, or wide—and try a similar one when jumpsuit shopping.
The third: A big thank you goes to Hotel Belleclaire for hosting me during fashion week! This small, upscale boutique hotel just steps away from Lincoln Center's backyard made getting to those 9am shows so much easier. Not to mention the sophisticated amenities, C.O. Bigelow products, luxurious Frette linens, amazing blowouts by Sam Villa, and the best knowledgeable concierge service that will do a midnight run to the Apple store just in case you forgot your charger.
Check out the new feature on my blog, the Money Spot. You can now click on and shop the post, (check out the top photo), and shop the post directly from there. It will be truly a game changer!
Photos: Lydia Hudgens
Shop it here:
New York Fashion Week has come and gone and the fashion circus is currently cavorting in London. As February drags on and we continue to get more snow days, really??, editors begin to leave for Milan, and then Paris. And I'll have the FOMO disease like everyone else scrolling through their Instagram feed. But I digress.
As I reflect back on the week (more like 10 days) that were New York Fashion Week, I realize that there is a lot that happens. And it's not just fashun with a capital F. It's when the craziness of fashion week ends, with back-to-back shows and appointments with barely time to inhale some nourishment, I am wistful that it's over, feel an emptiness for that constant high, and have the chance to reflect back.
"But aren't you fried, exhausted, and ready for this nonsense  to end?" my peers ask, as I hit the shows enthusiastic as ever even with a few broken ribs. Yes, I'm still tired and certainly recovering, but I also feel deflated, like it came too fast and ended too soon.
Fashion week brings a jolt of caffeinated energy to Manhattan's already electric streets, and it was filled with sequins, glitter, , and lots of bright colors. The memories are all we have left. I went for the clothes, but left with so much more than just wisps of fabric. Here's my  top 10 moments from fashion week.
1. This banging tune at Lacoste
Was awesome but not secondary to the clothes. The looks were reminiscent of a golf pro, yet this season, Felipe Oliveira Baptista spun those archaic uniforms into something that could realistically be seen on his acolytes in their twenties and thirties. Knits spun from virgin wool, monogrammed beanies, oversize coats, and loose, menswear-inspired pants were a hit on the runway. It was a nod to Lacoste's eternally playful joie de vivre.
But this song by Barry White, "It's Ecstasy When You Lay Down Next to Me" is the real deal. Listen.
2. Cocoon Coats at Rebecca Taylor
"Slouchy modern, and cool", Taylor's fall lineup was filled with strong, feminine staples that will remain in wardrobes for seasons to come. Outerwear, was a standout in a sea of fuzzy sweaters, and what really shined. Vests with buckled shearling turtlenecks, leather trim, and zip details were super-slick, but the wool cocoon coats were Taylor's pride and joy. This one in storm gray—paired with a baby blue chain-embellished sweater and crackled leather skinnies won my heart.
3. The streaker at Prabal Gurung show
The clothes were, duh, awesome, but although you've probably heard it a zillion times, this streaker dressed in a crown, trench coat and what appeared to be a jockstrap – made fashion waves. Sorry Prabal.
4. The patterned prints at Proenza
One of the highlights of my week was watching the Proenza boys just plain working it. The spongy jacquards naturally led to sculptural shapes, and their generously cut jackets with hourglass waists, and flaring hips on "trippy" prints were a fantastic, fast and furious burst of energy from the rest of the shows. For them, it's all pump up the volume, and push it to the limits, in an almost tiger-like but resembling wood, that make it, well, you know, fashion.
5. Weryoo App
Tag line: Because if you weren't there, it didn't happen. During fashion week you will most often find me posting photos on instagram of the looks that strike me garnering a crowd that likes the same things I do. But as I furiously check my phone, it's hard to know whether these grammars are sitting right next to me or on the other side of the Atlantic. I like talking and listening to others right after a show ends, but most of us race to the exit to get to the next event. Enter Weryoo, or–where you there?– to resemble a delicate combination of Four Square, Facebook, Twitter, and instagram all in one.  At first I had trouble as you have to take photos using the camera on the app itself. After that, it was smooth sailing. You take a pic, upload it, use numerous hashtags like #NYFW and #NYStyle, the app locates you, and people who are near can comment right away or even come up to you to ask you for a smoke. Just kidding. Check it out on the app store.All you need is an eye for capturing the essential moment and sharing it. Get it here.
6. Tweed at Timo
Who wants to be one of the cool kids? The coolest of the cool downtown chicks walked the runway at Timo Weiland's show. Recent graduates of the CFDA Incubator Program, designers Timo Weiland, Alan Eckstein, and Donna Kang are a triple threat in terms of creating casual luxury with a fashion-forward twist. That was accomplished with this striped tweed tuxedo coat that is on my list for must haves for Fall . The collection was part school girl-gone-bad, part rock n' roll. Sign me up.
7. Robing at Altuzarra
If robe coats are New York City winter's answer to wrapping up like a cozy blanket, I'll take it times ten. Take the double-face navy cashmere wrap coat with generous cobalt blue shawl collar that opened the Altuzarra show. It was a model of timeless refinement, built for just we are asking for. Finding beauty in comfort.
8. Feathers at Jenny Packham
If models had wings, many of them would have been able to fly home from the runway shows this season. Peckham injected a whole lot of  Bianca Jagger-tinged eccentricity into her pretty gowns and glittery separates. There were sequins, crystals, and loads of satin looks, but the feathers, the feathers!
9. Ponytails at Noon by Noor
Sure the berry lips lend a big pop, but just wait until the model turns around. Bam! The most voluminous ponytail ever.
10.  Menswear-inspired loafers at Tracy Reece
There were classic loafer silhouettes and feminized versions of dressy lace-ups you're likely to find in any man's closet, popping all over the fall runways and I couldn't be happier. Petite I shall be, but my feet will thank me for it. Designers on the New York runways illustrated an obsession with loafers and brogues and these are, by far, the winners.
And a final shout out goes to Verizon Wireless for loaning me the Samsung Galaxy Note, for the awesome photos during fashion week the many people who help me navigate those icy streets, and the wonderful PR people who accommodated my need to garner a seat during the shows.
Stay tuned for more updates at the end of the week!